The Golden Padlock Award

Investigative Reporters and Editors in 2013 launched a new award — dubbed the Golden Padlock — recognizing the most secretive publicly-funded agency or person in the United States.
"The practice of secrecy within governments has been elevated into high art," said Robert Cribb, chair of the Golden Padlock committee. "This award brings well-deserved recognition to those who have distinguished themselves with ingenious creativity in denying the public's right to know."
Governments at all levels – from local to federal – are eligible for the award. The "honor" is handed out annually at IRE's national conference.
HOW TO APPLY
You will be asked to provide the name of the agency or individual along with reasons and/or media coverage detailing the intransigence.
WINNERS
2019 | Michigan State University
The 2019 Golden Padlock presentation
MSU was selected for this national honor for keeping widespread sexual assault scandals under tight wraps, including serial abuse by disgraced team doctor Larry Nassar and hundreds of student complaints against faculty, staff and students. Last year, the attorney general's special counsel accused the university of trying to "stonewall" the Nassar investigation, saying MSU officials were disingenuous in their commitment to transparency by issuing misleading public statements and withholding key documents. That secrecy reached well beyond Nassar's case.
Last year, MSU officials refused to release records detailing whether 38 of its top officials faced misconduct investigations, the Lansing State Journal reported. MSU also fought to withhold names of athletes in campus police records until a 2015 state supreme court ruling awarded ESPN the records.
In a separate 2017 case, MSU took the remarkable step of suing ESPN in response to a similar request for police reports involving student athletes. The lawsuit was dismissed when a judge concluded the lawsuit could "dissuade persons from making FOIA requests…out of fear of being sued by a public body."
Local Padlock Award: This bonus award recognizes government secrecy in Houston, the location of the 2019 IRE Conference. Former Houston Mayoral Press Secretary Darian Ward received the honor for spending time on the city's payroll working on side projects — including reality TV show pitches — instead of answering reporters' questions. She also tried to hide her emails, which showed she was distracted with priorities that had nothing to do with serving the people of Houston, from public release. After the news broke, Ward resigned and later pleaded guilty in court to conducting personal work on the taxpayer's dime and was granted probation.
2019 FINALISTS: Massachusetts Justice Officials, New York City Economic Development Corporation (NYCEDC), Mine Safety and Health Administration (MSHA), Former Alabama Attorney General Luther Strange, Charleston (S.C.) County School District. To learn more about each agency, click here.
2018 | City of Atlanta
Atlanta was selected for this honor for directing city staff to block records requests and for releasing false invoices that triggered a criminal investigation into alleged violations of Georgia's Open Records Act. In response to a potentially embarrassing records request from Channel 2 News, former Atlanta Mayor Kasim Reed's press secretary sent text messages to city staff advising they respond by being, "as unhelpful as possible…Drag this out as long as possible…And provide information in the most confusing format available."
In a separate case, a city attorney provided legal invoices totaling $1.4 million in response to an Atlanta Journal Constitution request. But there was a problem: The invoices weren't real. City officials buried the real ones and created new documents made to look like invoices for release to reporters without disclosing the sleight of hand, the newspaper found.
In March, the Georgia Bureau of Investigation opened a criminal investigation into alleged violations of the state's open records act. Then, in April, the two Atlanta news outlets filed a complaint with Georgia Attorney General Chris Carr alleging "a culture of political interference" with open records requests at Atlanta City Hall, outlining 10 examples of alleged violations of the law and "a pervasive culture of noncompliance.
2018 FINALISTS: Texas Attorney General communications director Marc Rylander; The City of Riviera Beach and Councilman Terence Davis; The Ohio Department of Rehabilitation and Correction; The United States Department of Agriculture; Former Missouri Gov. Eric Greitens; and Sioux Falls Mayor Mike Huether. To learn more about each agency, click here.
2017 | Scott Pruitt, the Oklahoma Attorney General's Office and the U.S. Environmental Protection Agency
Scott Pruitt was selected for this honor for steadfastly refusing to provide emails in the public interest and removing information from public websites about key environmental programs. The Center for Media and Democracy filed nine public records act requests, and one lawsuit between 2015 and 2017, seeking Pruitt's emails during his time as Attorney General of Oklahoma. It took two years, and a judge's order containing candid criticism of Pruitt's office for its "abject failure" to abide by the Oklahoma Open Records Act.
The resulting emails showed Pruitt "closely coordinated with major oil and gas producers, electric utilities and political groups with ties to the libertarian billionaire Koch brothers to roll back environmental regulations." But many other emails have been withheld and are subject to a lawsuit.
Now, as head of the EPA, Pruitt is helping lead a Trump administration effort to remove information from public websites, including some information about air, water and ground pollution and the sources of toxic chemical releases.
2017 FINALISTS: The Missouri Department of Health and Senior Services, Pennsylvania State-Related Universities, Appalachian Judicial Circuit Chief Judge Brenda Weaver, and Atlanta Mayor Kasim Reed. To learn more about each agency, click here.
2016 | Department of Veterans Affairs
The VA was selected for this honor for withholding records about the qualifications of medical staff who evaluated thousands of veterans for potential brain injuries following service to their country. When TEGNA TV stations across the U.S. formally requested the information, VA hospitals withheld the names, board certifications and medical specialties of doctors performing the exams, saying release of the information "would not contribute to the public's understanding of the Federal Government." Kare11 in Minneapolis first obtained records showing many potential brain injuries were evaluated by staff whose qualifications did not meet the VA's own requirements, potentially missing cases of injuries that can trigger additional benefits for veterans. Following an internal investigation, the VA now acknowledges 25,000 veterans across the country had their brain injury diagnoses performed by doctors who were not qualified to make those diagnoses. TEGNA is currently in the process of appealing the agency's public disclosure denials.
2016 FINALISTS: The Massachusetts Supervisor of Public Records Shawn Williams and Secretary of State William F. Galvin; The U. S. Department of Defense Office of Freedom of Information; Bureau of Safety and Environmental Enforcement (BSEE/"Bessie"); The City of El Paso. To learn more about each agency, click here.
2015 | Massachusetts State Police
The 2015 Golden Padlock presentation
The Massachusetts State Police habitually go to extraordinary lengths to thwart public records requests, protect law enforcement officers and public officials who violate the law and block efforts to scrutinize how the department performs its duties. It normally takes months or longer to respond to news media FOI requests. Requests for basic documents routinely produce refusals, large portions of blacked out documents or demands for tens of thousands of dollars in unjustified fees. Among them, a $42,750 fee for the log of its public records requests and a $62,220 fee for records of crashes involving police cruisers sought by the Boston Globe. A Bay State Examiner reporter was told to pay a $710.50 "non-refundable research fee" to get an estimate of the fee he would have to pay to obtain copies of internal affairs reports. The Worcester Telegram & Gazette concluded: "The Massachusetts State Police is a habitual offender – verging on a career criminal – when it comes to breaking a state law intended to ensure government is accountable to the people it serves."
2015 FINALISTS: The Colorado Judicial Branch; The Texas Department of Public Safety; The U.S. Department of Defense. To learn more about each agency, click here.
2014 | The U.S. Navy FOIA office
After the September 2013 massacre at the US Navy's Navy Yard in Washington, D.C., the Navy circled the wagons, especially when WRC-TV reporter Scott MacFarlane submitted FOIA requests for images, videos and security-related memos. The Navy not only blocked the request but Navy FOIA officer Robin Patterson, in an internal memo, detailed an elaborate plan to stymie MacFarlane's request and others. The memo, which was accidentally released to MacFarlane, triggered an onslaught of media coverage, a written apology to MacFarlane by a Navy supervisor, a lawsuit against the Navy FOIA office and an internal Navy review of the agency's FOIA procedures.
2014 | Oklahoma Governor Mary Fallin and Missouri Governor Jay Nixon
After Missouri announced last year it was making the state's execution drug supplier a legally protected secret, officials began redacting all identifying information in response to freedom of information requests. When journalists eventually learned the name of the hidden supplier, they reported the company was not licensed in the state, had been cited in the past by regulatory agencies and was paid thousands of dollars for its services in cash deliveries by a high-ranking state official. Rather than embracing greater openness and transparency following the revelations, the state again shrouded its new, unknown execution drug supplier in secrecy where it remains today. In April, following a botched execution in Oklahoma, journalists were stonewalled by a law preventing the public from learning the name of the physician overseeing the execution, the supplier of the drugs and the credentials of the medical professional who may have improperly inserted a failed IV line. Under the law, details that could explain the gruesome last minutes of the inmate's life and seek accountability remain hidden from public knowledge.
2014 FINALISTS: The Department of Justice's National Security Division; The VIA Metropolitan Transit system of San Antonio; The West Virginia judicial investigation commission. To learn more about each agency, click here.
2013 | U.S. Border Patrol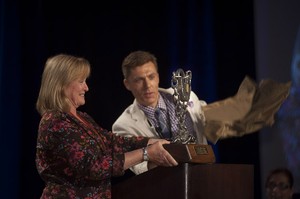 Robert Cribb, of the Toronto Star unveils the Golden Padlock Award, held by Lea Thompson, of LT Productions, at the 2013 IRE awards luncheon.
The country's largest law-enforcement agency was chosen among dozens of nominations from journalists and the public for refusing to make public the details of use-of-force incidents involving its agents. Despite a string of fatal incidents over the past three years in which Mexicans have been shot and killed by agents along the Southwest border, the Border Patrol routinely refuses to disclose the names of agents involved. And it has repeatedly stonewalled FOIA requests on the incidents filed by the Arizona Republic because the cases remained under investigation by the FBI, sometimes for years.
"The U.S. Border Patrol's resounding silence on fatal shootings involving its agents epitomizes the kind of intransigence for which this award was created," said IRE president David Cay Johnston. "Accountability is an essential element of any public agency, but all the more so when its agents are empowered to fire weapons that kill. The Border Agency appears to have forgotten that duty."
2013 FINALISTS: JobsOhio; New Jersey Transit; Fulton County, Georgia Tax Commissioner; The Centers for Disease Control and Prevention. To learn more about each agency, click here.