The Philip Meyer Awards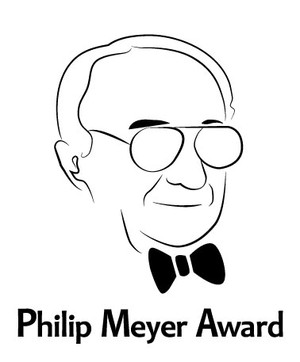 The National Institute for Computer-Assisted Reporting, a joint program of IRE and the Missouri School of Journalism; the Knight Chair at Arizona State University's Walter Cronkite School of Journalism and Mass Communication and IRE are proud to present the Philip Meyer Journalism Award, a contest that recognizes the best journalism done using social research methods.
The awards are in honor of Philip Meyer, professor emeritus and former Knight Chair of Journalism at the University of North Carolina at Chapel Hill. Meyer is the author of Precision Journalism, the seminal 1972 book (and subsequent editions) that focused growing numbers of journalists on the idea of using social science methods to do better journalism. He pioneered in using survey research as a reporter for Knight Ridder newspapers to explore the causes of race riots in the 1960s.
Three awards are given annually — a first, second and third place — to recognize the best work using techniques that are part of precision journalism, computer-assisted reporting and social science research. The awards are: $500 for first, $300 for second, and $200 for third.
The contest also helps identify the techniques and resources used to complete each story. Entries are placed in the IRE Resource Center, allowing members to learn from each other.
Past winners
Contact
Lauren Grandestaff
573-882-6668
About the 2020 contest
Please visit our contest Q&A for more information
The 2020 Philip Meyer Awards Contest is closed.
The contest deadline was November 15, 2020, at midnight Eastern Time.
Awards will be presented at the 2021 NICAR Conference.
What can I enter?
For ideas on what you can enter, watch the video below to hear Jennifer LaFleur, then of Reveal for The Center for Investigative Reporting, David Donald (deceased), then of the Investigative Reporting Workshop, and Tom Hargrove, then of the Scripps Howard News Service discuss best practices for great data reporting.